"You will burn and you will burn out; you will be healed and come back again". Dostoyevsky could have written those words about me. If you recall, after finishing last year's Best Buddies Hearst Castle Challenge, I said that I was 'retiring' from any future 100-mile bike rides. Some much smarter than me (namely my sister, Donna) told me that I would ride again but I vehemently disagreed. It turns out that Donna was right.
I am proud to announce that I will be riding the Best Buddies Hearst Castle Challenge on September 10, 2016. This marks the 6th year of my participation in the Challenge and your generosity over the past 5 years has been overwhelming. Together, we have helped Best Buddies help the best among us.
My plan after finishing last year's ride was to get Chase involved in TEAM BLAKE by riding in the 15-mile Challenge. But, it became apparent that he wouldn't be able to take 2 days off shortly after beginning his junior year of high school. So, that left me with a decision to make. Should I ride the Century again? The answer was, 'Hell, yes!'
Was it the siren song of the Pacific Coast Highway climbs that lured me back for another six and a half hours in the 'pain cave'? Or, as an aging member of MAMIL (middle aged men in Lycra), was it the seductive call of spandex mixed with endorphins that made me reconsider? Could it have been as simple as not wanting to miss out on the pomp and circumstance surrounding the entire event? Valid points they are, but each played only a small part in my decision to ride again.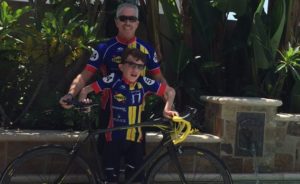 The reason I started riding in the Best Buddies Challenge was to honor Blake and others who deal with Intellectual and Developmental Disabilities every day. The Best Buddies mission of inclusion is powerful and their programs have the ability to change the lives of young people affected by IDD.
But the motivational spark to ride again came as I watched Blake one day recently. Blake is 14 and is still unable to talk. He can communicate but he lacks the ability to speak and will likely be non-verbal for his entire life. I tried to put myself in his place to see how frustrating life must be for him as a teenager, aware of his own needs and wants, but at the mercy of others to understand and fulfill those needs. I couldn't begin to imagine what that would be like. So, I figured if Blake can tough it out and go through life without a voice, surely I can pedal a bike up some hills and raise some money for Best Buddies.
TEAM BLAKE rides again! Can I count on your generous support of me and Best Buddies? If so, simply click on this link.
Thanks again for sponsoring me and helping kids like Blake lead fulfilling lives. I'll see you on the road. It looks like I'll be doing this for a long time!
Joe